AvaTrade has been an online trading platform since 2006. Now it is referred to as the international financial market. The broker reports over 200,000 clients with over $1 billion in daily trading volume.
Introducing AvaTrade
The broker has existed since 2006 and has grown rapidly, in the light of the advent of digital and the enthusiasm of investors for the financial markets. Especially through forex. Since then, AvaTrade has been present throughout the world and has more than 200,000 customers!
AvaTrade allows you to speculate on hundreds of the most popular financial instruments; like cryptos, commodities, exchange rates, etc…
The company located in Dublin, Ireland, has offices in Sydney, Beijing, Tokyo,…). It is a reliable broker in which it is possible to deposit your money with confidence to invest in the markets.
Avatrade Trading Broker is supervised by many official agencies like:
– The FSCA: the South African Financial Sector Conduct Authority
– ASIC: Australian Securities and Investments Commission
– The FSA: Financial Services Agency
– The Financial Futures Association based in Japan
– FSRA: Financial Regulatory Services Authority
– ADGM: Abu Dhabi Global Markets
The licenses obtained by Avatrade allow the platform to act on all continents of the planet!
AvaTrade, a new generation broker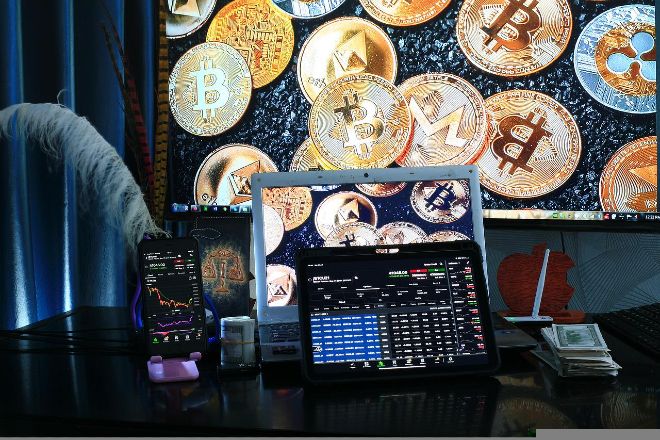 Credit: Pixabay
Avatrade is a broker specializing in derivative products of the type:
– stock trading,
– CFDs,
– options,
-Forex,
– raw materials,
– Cryptos,
With AvaTrade, you will be able to invest by multiplying your initial bet thanks to CFDs which are leveraged financial instruments and which allow you to invest in several asset classes with a minimum of funds.
Avatrade mainly offers American and European stocks in its palette. In addition, on the platform, you will be able to be exposed to stock market indices. Avatrade finally offers a range of ETFs with CFDs, which replicate stock indices such as:
– the SP 500,
– the Dow Jones,
– the CAC 40
– US 30
– US 500
– SMI
– NIKKEI 225…
– DAX 30
-FTSE 100
With CFDs you will have access to different underlyings, such as currencies, commodities and cryptocurrencies. This by using leverage. You will also be able to trade oil and natural gas, for example.
On the cryptocurrency side, you will be able to carry out transactions on Bitcoin, Ether and many more.
The system implemented by AvaTrade
At AvaTrade, you will be able to benefit from one of the following platforms depending on your level:
– MetaTrader 4 (available in mobile version): the most popular trading software on the stock market,
– MetaTrader 5 (available in mobile version): more recent version of MetaTrader,
– AvaTradeGO (available in mobile version): you can manage several accounts, real or demo.
Avaprotect protects you from bad trades
The Avatrade broker offers a unique service called AvaProtect which will allow you to cover yourself against losses on dozens of financial instruments.
Right here, AvaProtect acts as insurance to be triggered before each transaction, to cover losses in the event of a bad decision. This allows the novice trader to be reimbursed for their losses with a payment made by the live broker.
AvaTrade: a reliable player in the world of brokers
AvaTrade reassures. Indeed, you will be able to activate two-step authentication to connect to your account. You enter a code received by SMS each time you enter your username and password, in order to access your Customer area.
Emphasis on customer service at AvaTrade
Avatrade puts the package on the quality of its service. In addition, the online platform specializing in trading provides its clients with high-quality guides before starting their first trades.
The broker offers:
– tutorials,
– e-books
– webinars
AvaTrade Demo, to get started in the world of trading
For novice traders, AvaTrade Demo will allow you to familiarize yourself with the features of the platform. You will have a great opportunity to test your trades over the water without any risk because you are only playing fictitious money.
Create your account on AvaTrade
It is very easy to create your account on the Avatrade site. Indeed, you will be able to start trading in just a few minutes. To do this, you just need to fill in a few items and then validate your registration by e-mail. You can join for free with a starting deposit of 100 USD.
Ultimately, Avatrade presents itself as one of the best brokers present in France on the financial markets. The platform wants to be accessible and offer quality services with controlled spreads.
The deposit operation on Avatrade is a simple operation. The process that takes time is the approval of your account. On the platform, you can access all financial transactions such as a transfer to your bank account or a credit card deposit. The withdrawal time can range from 24 hours to 72 hours depending on the type of account you choose during registration.
To conclude
AvaTrade is definitely a trustworthy broker that has been offering its online trading services across Europe for 15 years. It is therefore a broker that operates in France and supports nearly 200,000 investors in their day-to-day trading.
The trading platform offers trading on the best asset classes and those most used by investors:
– bitcoin
– gold
– CAC 40
– US stocks
Finally, AvaTrade provides robust platforms for trading such as MetaTrader 4 (MT4). Opening a trading account is quick and Avatrade also offers a demo account to start speculating on the financial markets in a 100% virtual way.
Disclaimer: CFDs are inherently risky complex financial instruments. It is possible to lose money quickly with the mechanism of leverage. First you need to understand how CFDs work!